Berea Sandstone™ Petroleum Cores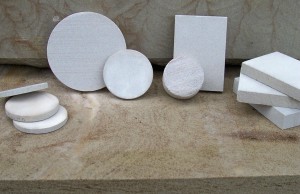 For the past 30 years, Berea Sandstone™ core samples have been widely recognized by the petroleum industry as the best stone for testing the efficiency of chemical surfactants.
Berea Sandstone™ is a sedimentary rock whose grains are predominantly sand-sized and are composed of quartz sand held together by silica. The relatively high porosity and permeability of Berea Sandstone™ makes it a good reservoir rock.
Split Rock
This is the name given to sandstone that has visible laminations and can be easily split along the laminations. Except for the laminations, some split rock can be classified as homogeneous and usually falls in the 50 to 300 milidarcy range.
| | | |
| --- | --- | --- |
| Silica | SiO2 | 93.13% |
| Alumina | AI2O3 | 3.86% |
| Ferric Oxide | Fe2O3 | .11% |
| Ferrous Oxide | FeO | .54% |
| Magnesium Oxide | MgO | .25% |
| Calcium Oxide | CaO | .10% |

| | |
| --- | --- |
| Permeability Range | Availability |
| Less than 50 mD | As Available |
| 50-100 mD | Rare |
| 100-200 mD | Available - Standard |
| 200-500 mD | Rare |
| 500-1000 mD | As Available |
| Greater than 1000 mD | Rare |
Cleveland Quarries supply Berea Sandstone™ cores in a variety of shapes and sizes, such as:
Core Blocks - any size up to 48x48x48
Cylindrical Cores - min 1/2" dia to any size requested (tool charges may apply)
Cores Dimensioned - rectangular and square shapes